Come Together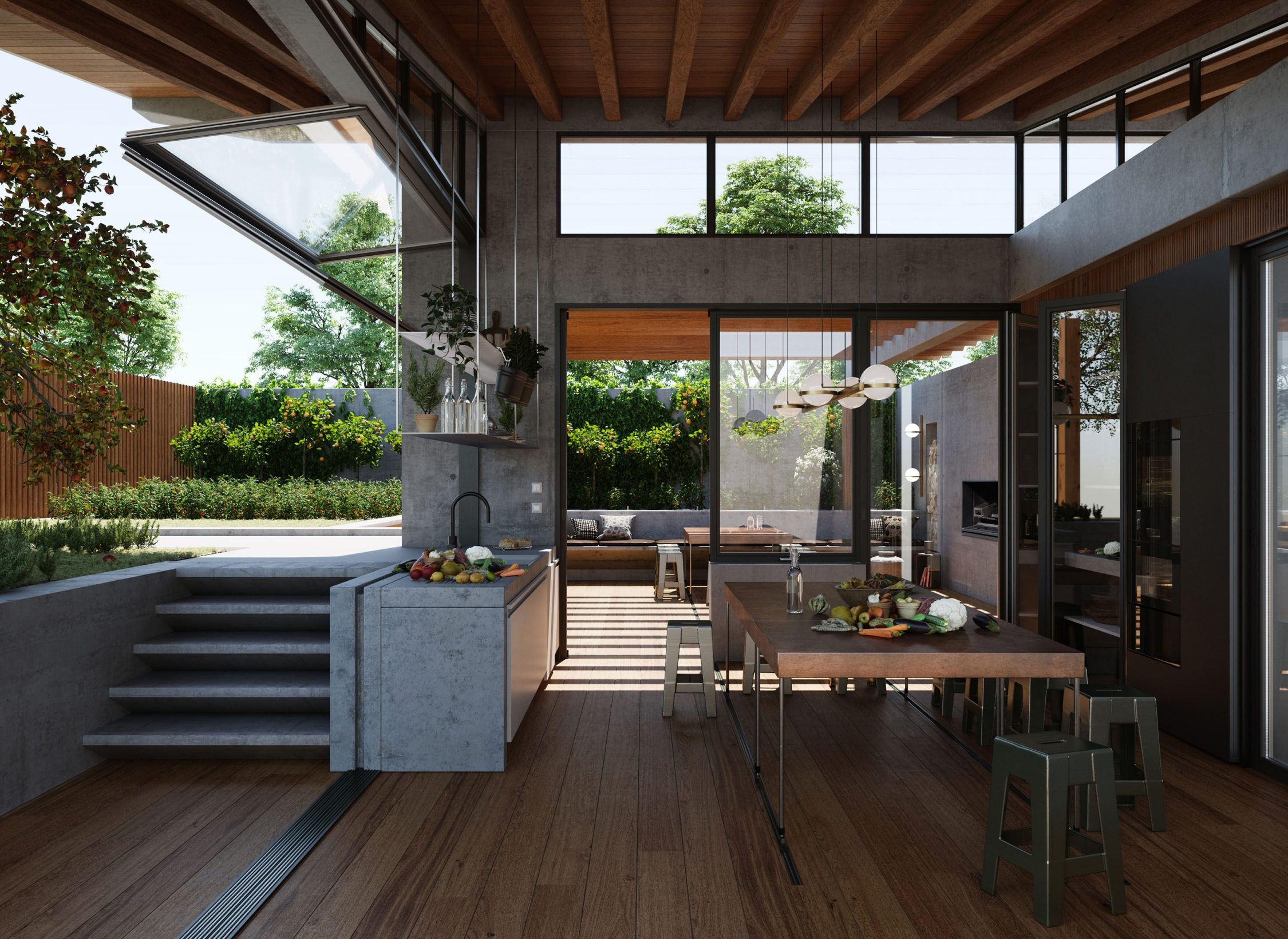 In this Concept Spaces collaboration with HouseLab, we explored how spaces contribute to the physical, social and emotional nourishment we derive through food – via its origins, its rituals and its traditions. We come together.
Project.

Come Together

Category.

Research

Client.

HouseLab

Location.

Sydney, Australia

Completed.

2019

Photography.

Mark Parsons (renders)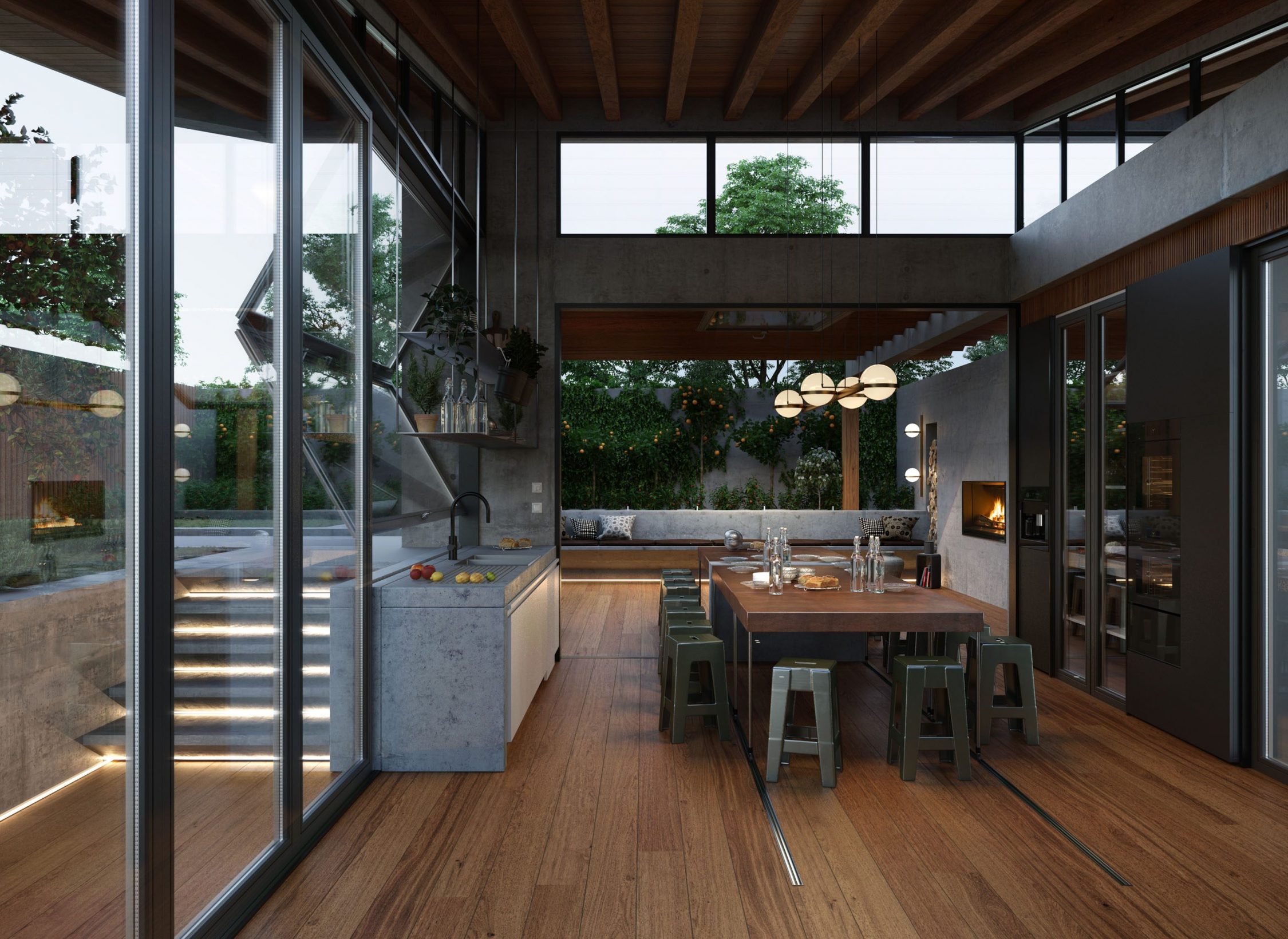 We come together to talk, to share, to bear each other's burdens over good food and wine. Food connects us to the past, present and future. We come together.
Across many cultures and places, the making of food is a shared experience, involving groups small and large. Making, when paired with cultivating vegetables, herbs, fruit, and honey, becomes a potent shared experience. Traditions and legacy are passed down and through to new generations and to friends, for the enjoyment of all. We come together.

Our kitchen / garden concept 'Come together' brings a self-sustaining edible garden up close to a kitchen that is flexible and robust, such that the kitchen becomes embedded in the landscape. It is designed to allow for varying levels of enclosure and opening, depending on the seasons, the gathering size, the occasion, and the modes of cooking. Cooking practices and rituals mark out place and time, and by turning its focus to the garden, the spatial design of the Kitchen enshrines a specific, focused experience.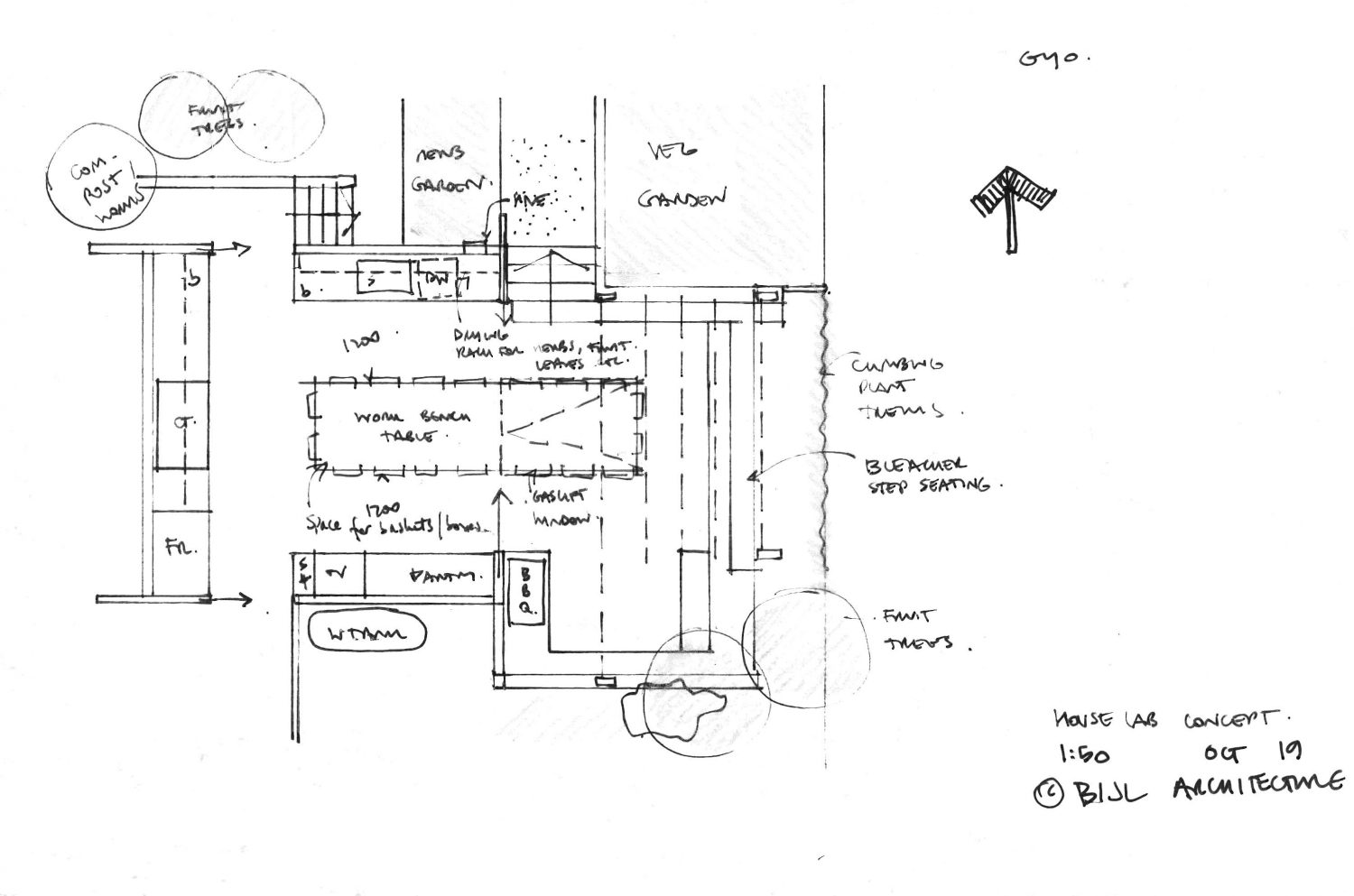 An oversized inside/outside worktable – sectioned and running on tracks for flexibility of use -forms the centrepiece of the space. Completely open underneath for the storage of stools, baskets, boxes and other containers to store harvested food, the table accommodates intimate family dinners, large noisy gatherings and casual BBQs with friends.
A generous sink bench has direct access to the herb garden, with a drying rack for herbs and fruits above and a specially draining bench for cleaning freshly harvested vegetables.
The south-western entry to the space is flanked by the food storage hub (fridge and pantry), with a Miele oven stack opposite the large worktable. The cooktop is centred on the 1200mm wide worktable, with generous benchspace on either side allowing for cleaning, washing, preparation.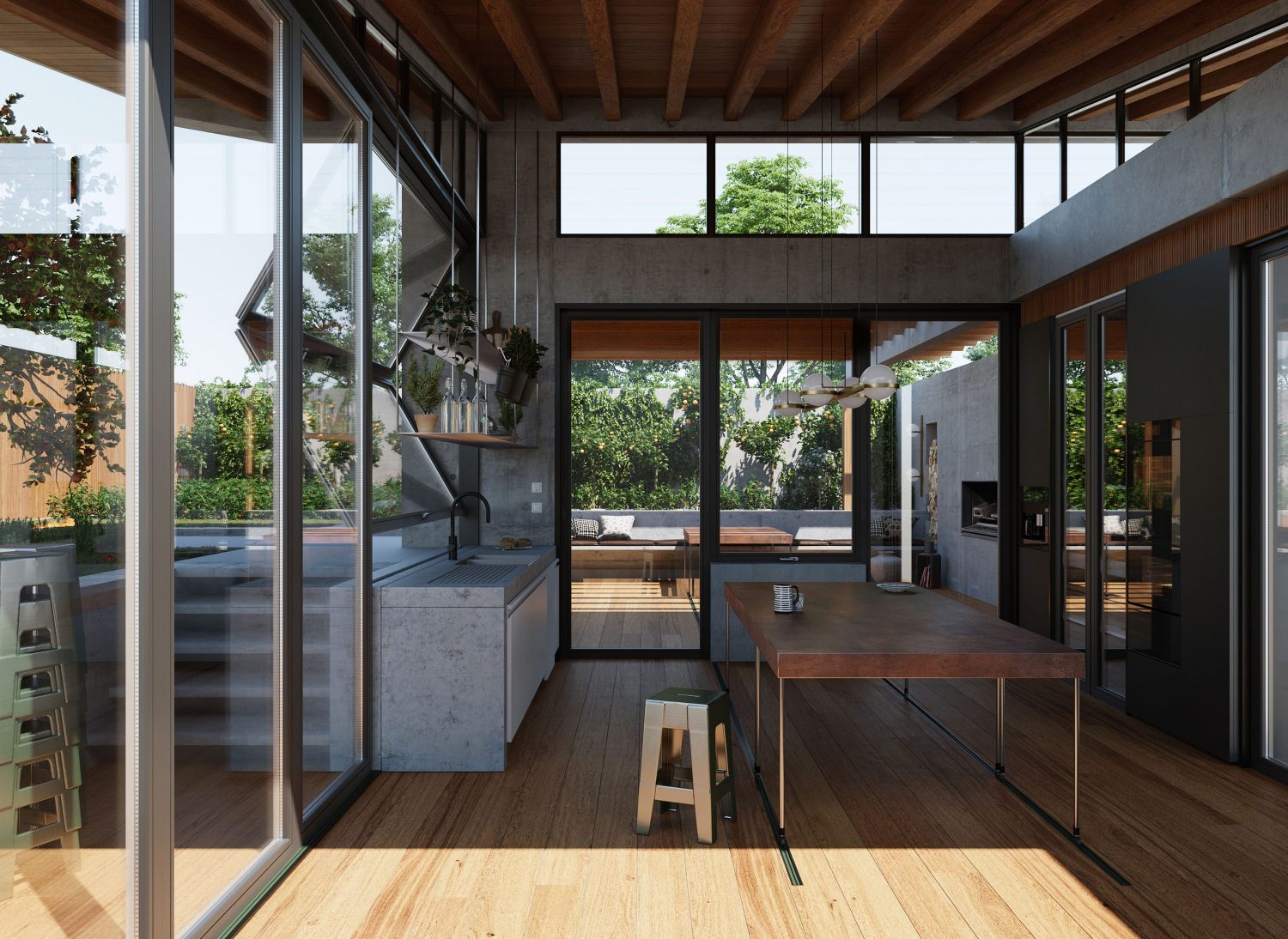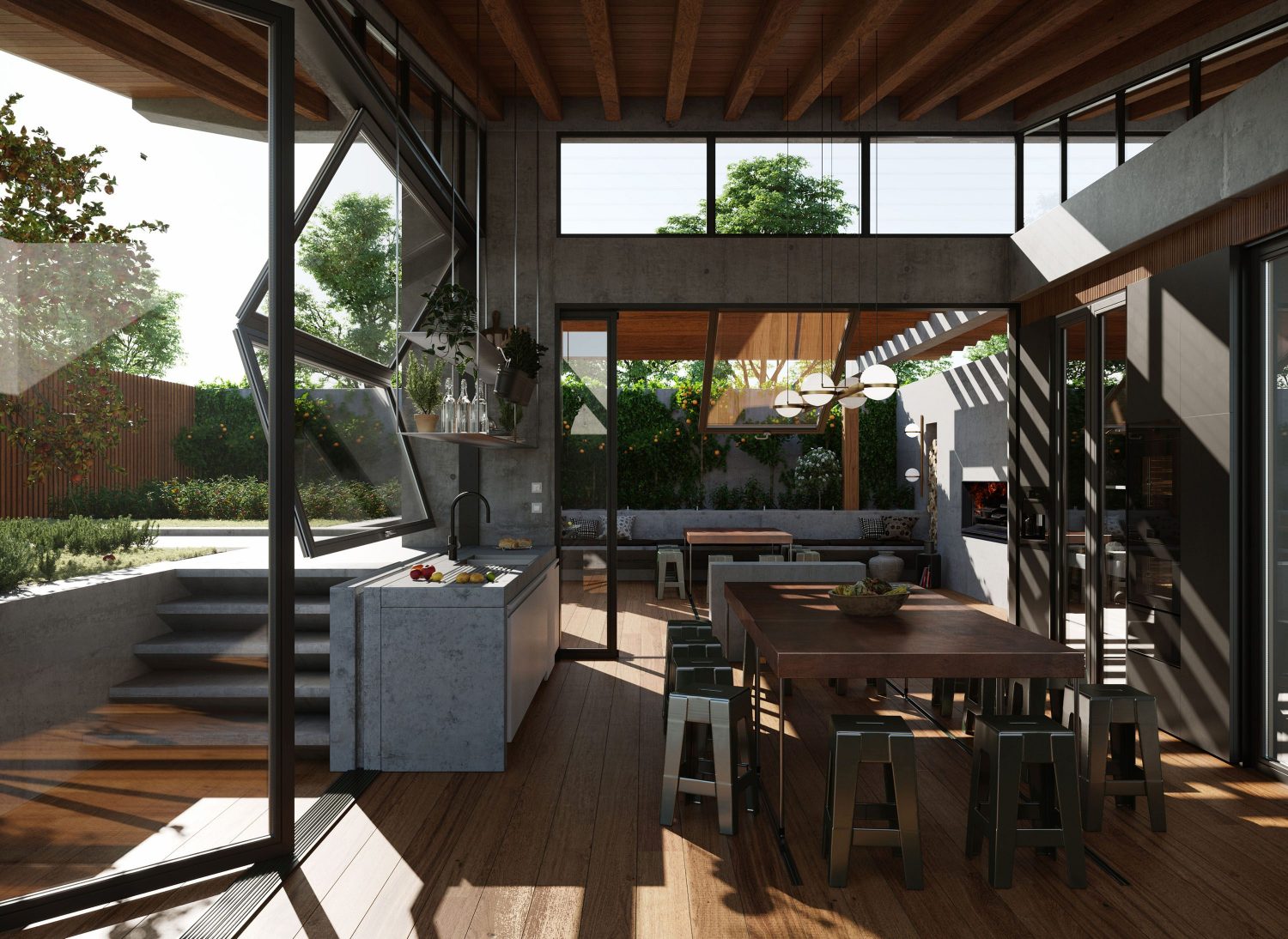 An array of sliding and bifolding doors and large gaslift awning and bifolding windows allow for various combinations of openings and circulation flows, paired with highlight louvred windows for natural ventilation and lighting. A Flow Hive is positioned in view of the Kitchen, near the fruit trees, herbs and vegetables to encourage pollination and steady honey production.
Materials have been selected for their durability and aging qualities – the oversized worktable has a copper surface with sturdy steel legs for stability and leanness. Appliances have been selected for their capacity to stack and seamlessly blend with the design, giving priority to the kitchen/garden space and its broadened functional scope.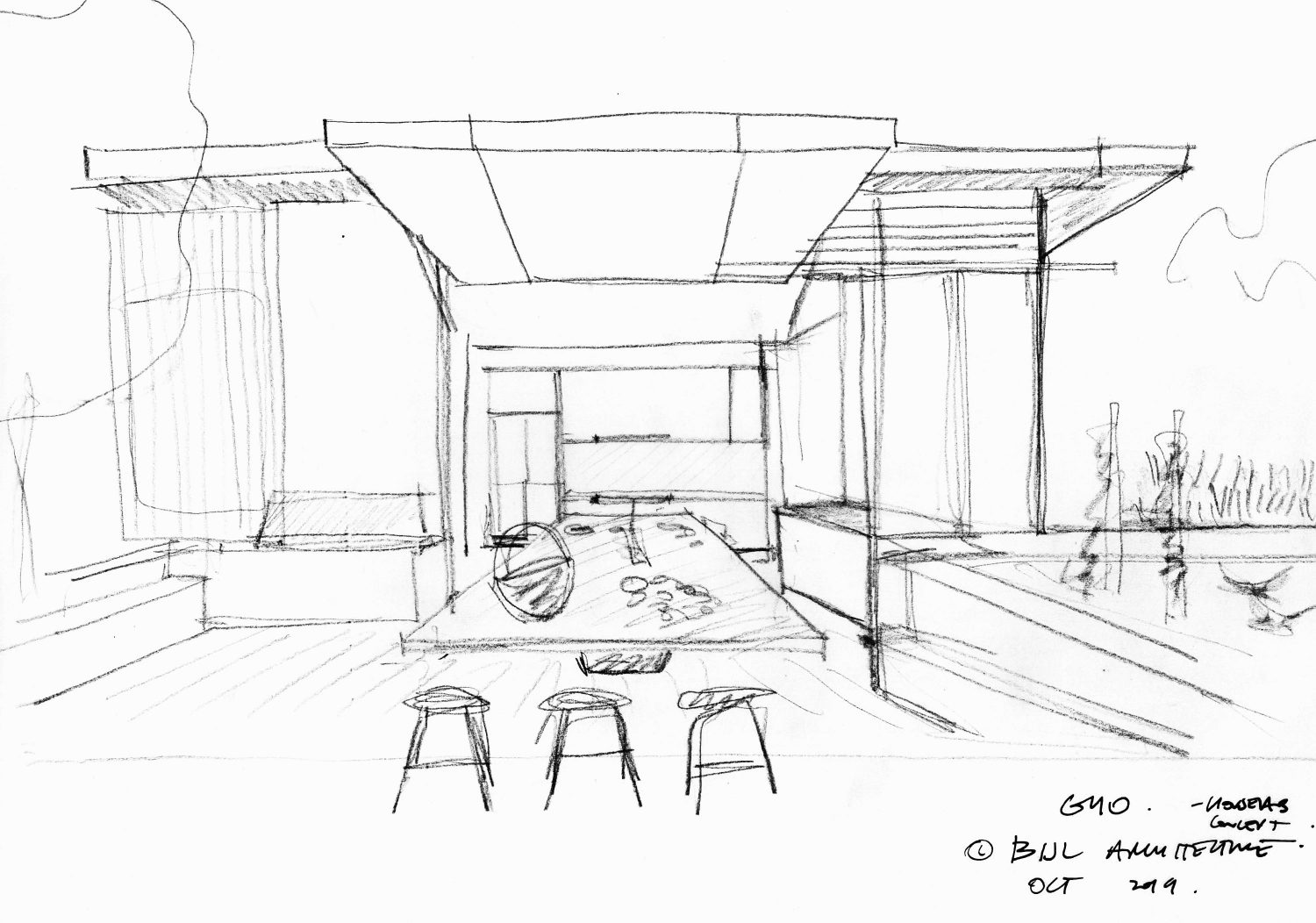 Outdoor cooking is embraced with the integrated Escea fireplace / outdoor cooking facility, allowing preparation to occur outside and for food to be readily cooked and enjoyed in the casual outdoor area with minimal movement through and around the space.

The Kitchen and Garden are articulated by strong, hardwearing materials – off form concrete and recycled timber boards bringing timeless and simple construction to the articulation of the space. This extends into the spatial arrangements with the worktable framed externally by bleacher style sitting steps, integrated with the garden beds and a patio space that overlaps with the BBQing area.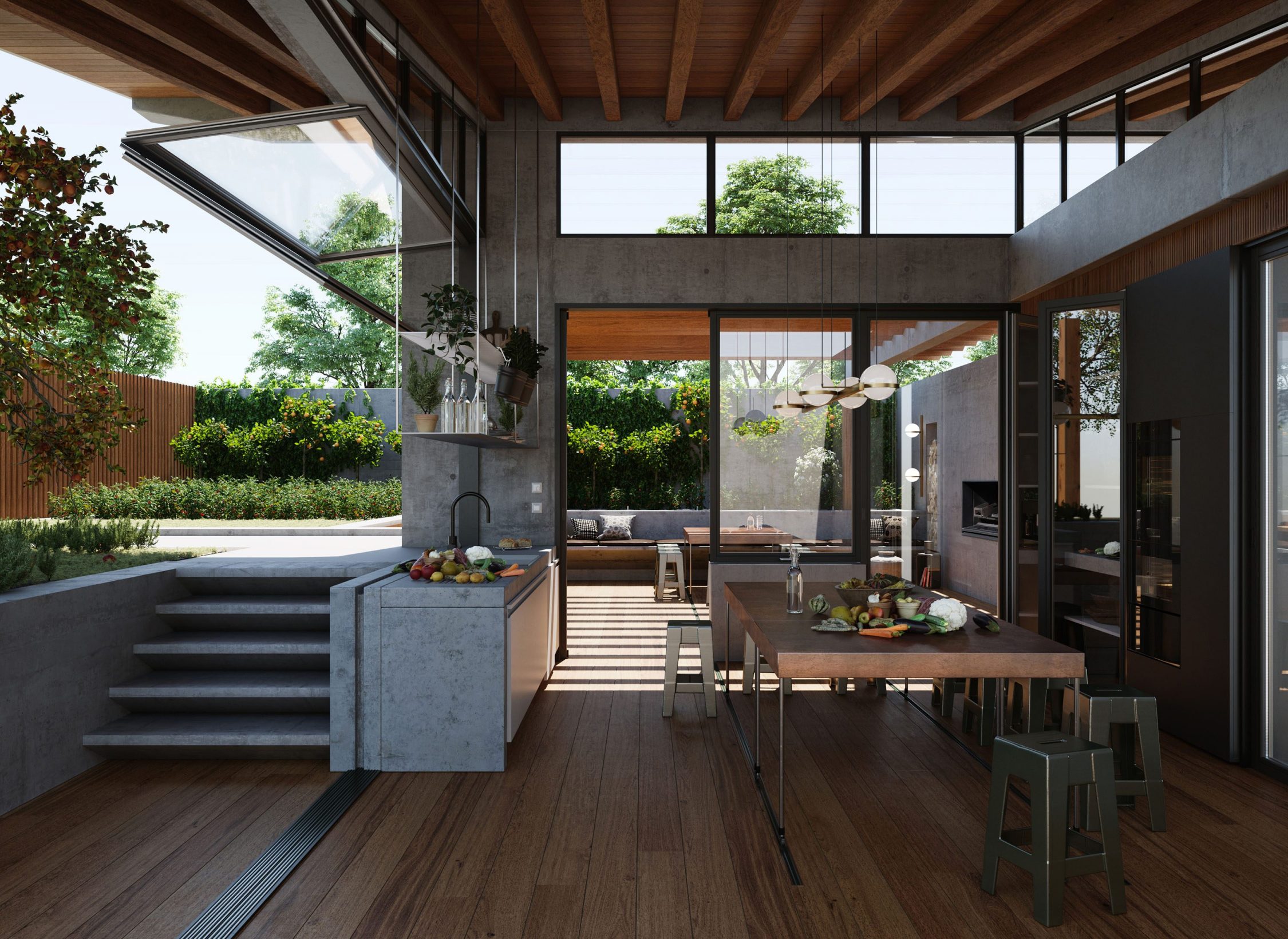 The axial view from the table is formed by a row of climbing plants along what might be a garden wall or indeed a boundary fence, as if often the case in limited suburban blocks. A trellis style pergola that would allow the growing of grapevines or similar provides shade and a transitional signal to the temporality of the outdoor eating area. The design encourages participation and occupation of the garden.
Kitchen and Garden come together.
Articles
Australian Design Review
22 January 2020
Bijl Architecture reimagines the suburban kitchen
Read